Poems Written in Srinagar: the city under siege : Ather Zia
Ather Zia is an anthropologist, poet and fiction writer. Her work has appeared in a number of magazines. Her first book of poems is titled "The Frame" and she also edits the journal, Kashmir Lit. Ather is also a faculty member at the University of Northern Colorado where she teaches anthropology and gender studies.
Next Poem:......................................................................................................................... Back to Poetry Index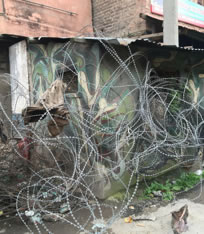 A concrete army bunker covered in barbed wire, Srinagar city
(pictures credits and copyright Ather Zia 2015)
1.
this is pain the, one that
finds loss the only place of belonging
grief is home here
home not just my own
but for those
who seek longing as a way of life
who fear grief only when it passes,
joy in this cup tangled in the barbed wires
will run over, only
when sorrow becomes explicit in staying
and grief again refuses to leave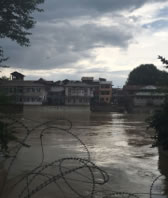 River Jehlum flooded, summer 2015 (pictures credits & copyright Ather Zia)
2.
sometimes medicine is to be avoided,
the puss must run like a river in flood,
the wound must fester,
my mother's knee, your eyes and
the neighboring butcher's hand must weaken together
the river must curse you
the soil must make sure it becomes stone
that allows no unidentified graves
once there, I will ask you out into the dusty post flood city,
with no barbed wire, head held high,
hand in hand we will trace
the wound,
perhaps the medicine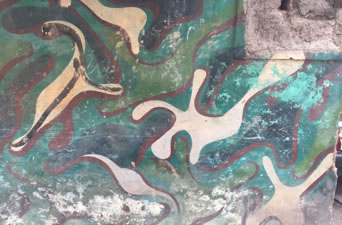 A camouflage design painted on a permanent bunker in old Srinagar. (picture credit and copyright Ather Zia 2015)

3.
You are like moss that grew on me in the Paleocene, when ducks had wings and no webbed feet, by the cave when the fire was all lighted, animals were sleeping, and we ate each other's bones, and drank blood like cocktails, and then drew on the uneven stone slabs chasing beasts that did not lurk outside –
You are like the moss that grew on me and remained, now a fossil, a stone spread like fire, not green anymore, just a shade of memory, clinging, noiseless –
Next Poem: ........................................................................................................................Back to Poetry Index