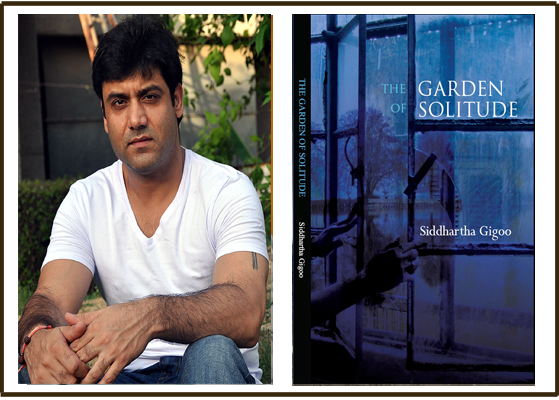 Siddhartha Gigoo was born in Srinagar, Kashmir in 1974. He left Kashmir in 1990 due to the political turmoil and militancy. He studied English Literature at Jawaharlal Nehru University, New Delhi. His poetry anthologies, 'Fall and Other Poems' and 'Reflections', were published in 1994-1995 and his debut novel 'The Garden of Solitude' was published in 2011.
Amrita Ghosh and Ather Zia talk to the writer extensively about growing up in Kashmir, his novel and his future projects.
AG: Your novel is perhaps the first fictional representation of the Kashmiri Pandit exile of the nineties from the valley. In that, the idea of 'not forgetting' comes up many times in the work. Was it a conscious attempt to focus on 'not forgetting' the history of the 'unhomed' in the mass exodus that took place in the nineties?
SG: During the early days in exile, I came across several elderly migrants who had entered a stage wherein they were neither able to remember nor forget the events from their past. The trauma of fleeing their houses and the miserable plight in camps had inflicted upon them a painful affliction. A form of dementia, perhaps! All that these people were left with were disparate islands of memory.
Years later, during my interaction with the migrants, I noticed that all that they remembered were the houses, the temples, the rituals, the mountains, the seasons…. But the remembrance was sketchy. Such encounters with the migrants led me to question my idea and belief about 'memory'. I started exploring the notion of 'ancestry' and became preoccupied with 'who are we?' and 'where do we come from?' – in a slightly philosophical sense.
In the context of the lives of exiles, their thinking and their life in camps, I came across an unsettling ambivalence. Three generations looked at their ethos, condition and aspirations in three completely different perspectives. The old nursed a yearning to return to their homeland – despite the fear; the middle-aged and the young vacillated between a strange past (which once was beautiful, then changed for the worse) and an uncertain present; the children born in exile grappled to assimilate into the new and carve a new identity, yet grew up amid a shared and fragmented memory, that of their parents and grandparents.
I was conscious that there weren't any stories or novels written in the English language about the exodus of Pandits in 1990 from Kashmir - their homeland. I was worried that many stories about identity and ancestry narrated verbally by the elders would fade away with them. Ironically, a fading and fragmented memory was all they were left with – despite a collective struggle to retain and hold on to this remembrance.
As a writer, I felt a tearing urge to preserve what was on the brink of extinction.
AZ: You are a published poet. Why did you switch to writing prose?
SG: I love reading poetry from across the world. My two poetry anthologies (Fall and Other Poems and Reflections) were published in 1994 and 1995, respectively. The Internet hadn't permeated our lives those days. It was not easy to share one's poems with people across the world. But many people who read my poems those days sent me letters showering praise. They were perhaps kind to a 'migrant' boy writing about the pain of exile and homelessness. I wrote love poems also. But I wanted to make a transition.
Prose offers boundless possibilities. The idea of writing a novel fascinated me. When one fails as a poet, one turns to prose.
I don't write poetry any more. I feel that the people are not interested in reading poetry. The age of poetry is over.

AG: You must have been asked this question many times before, but how much of an autobiographical work is The Garden of Solitude?
SG: My novel is partly autobiographical. Many of the incidents in the novel are, indeed, based on real events. I have passed through those incidents. After reading the novel, many Kashmiri Pandits told me they saw their reflections in the story.

AG: Along with that, how much of a role did memory play in writing such a work?
SG: I didn't conduct any research. I never intended to. All I had were notes hastily scribbled on sheets of paper. The notes were about events and anecdotes. An interesting aspect of these events and anecdotes was that they were mostly incomplete. At many places, the stories had gaps. My memory of the days spent in Kashmir and the events that led to the exodus and life is exile was a bit hazy. It was difficult for me to remember with precision the details about the turmoil, the militancy, the divide between the two communities, and life in exile. Therefore, I became conscious of the limitations. I tried to figure out a way to weave the narrative and fictionalize the events in my own way. When I wrote about the exiles who got afflicted with dementia, 'memory' perhaps became subtext.

AZ: There has been some criticism regarding books written on Kashmir that they haven't been able to move beyond the stereotypical perspectives of what happened between Hindu Pandits and Muslims during the migration or as the conflict gained momentum in the valley. Do you think The Garden of Solitude has been able to move beyond these portrayals?
SG: Criticism will always analyze portrayals and representations in the context of socio-political and historical realities. My concern was the authenticity of events and happenings. I was interested in depicting a slice of life – the ironies and the paradoxes involving the relationship between Kashmiri Pandits and Kashmiri Muslims who, after living harmoniously for centuries, chose to part due to political ideology and affiliation.
Novels must be read in several different ways. Unlike history, fiction lends itself to multiple interpretations. Novels can work better than history. Most of the times, readers are able to see what writers never intended to portray.

AG: One gets a sense of the shared history of coexistence between Kashmiri Pandits and Muslims in the novel. Was it a conscious effort to show the shared history against the deteriorating dynamics in the relations between Pandits and Muslims in Kashmir?
SG: There were differences in habits and customs, but there were similarities as well. There was bitterness and there was affection. It is difficult to understand the common bonds the two communities shared. It was a love-hate relationship. Strange how mistrust and trust can coexist at the same time!
I doubt if there are similar instances in other parts of the world. Ordinary people don't see the relationship as deteriorating. Those with vested interests do.

AZ: What do you think about the glaring divide between the Kashmiri Muslim and Kashmiri Pandit communities for the past 22 years? Do you see it deepening, resolving, or do you discern a different equation coming to fore between the two?

SG: All we have now are memories of a shared past in which beauty and ugliness are plaited together. At an individual level, the bonds of friendship are really strong, but at an ideological level, there are differences, bitterness and even a sense of betrayal. Differences come to fore when people from both communities interact on many sensitive subjects involving the historical tragedies and the wrongs inflicted upon them by politicians that nurtured neither care nor understanding for the Kashmiris and their diverse aspirations. Human relationships are put to test when we are confronted with the bitter truth.
Certain things are irreparable. One needs to become a saint to be able to view relationships beyond a sectarian and religious divide. The chasm will keep widening so long as people indulge in blame games.
I feel we must strive tirelessly and relentlessly to create small solutions at individual levels, if possible, in case broader political solutions continue to evade us. Understanding human relationships in their complexity and accepting the hard truth is what must be done. Who knows what will happen in future? I don't think Pandits will go back to Kashmir. The youth are settled outside Kashmir.

AG: I find the section on Ladakh very interesting, where the narrative almost undergoes a shift. There seems to be a core of apolitical spiritual essence in that part in which Sridar visits Ladakh. Can you tell us a bit more on writing that section?
SG: It is interesting that you find that chapter set in Ladakh delineating 'a shift' and bordering on the 'apolitical'. While many readers found it apolitical, one reviewer called it an essential digression, an interlude, necessary for the development of the protagonist. Much before I began writing the novel, the central premise I had in mind was one of a journey in which the protagonist undergoes a spiritual transformation. Perhaps, I had bildungsroman in mind.
Originally, the story I had thought of was of a boy who gets to journey through the vicissitudes of life amid difficult, tragic and yet interesting times – against the backdrop of conflict, rebellion, exodus and exile. The protagonist's adventurous odyssey takes him to different places where chance encounters with interesting people bring about an inner transformation and he realizes that these journeys lead to a quest for the purpose and meaning of existence. It is the search for something ineffable - in a world riddled with love, hate, madness, and paradoxes.
Ladakh seemed to present an ideal backdrop given its aura. One reviewer, however, did point out an orientalist representation, which is understandable. Ladakh, the land of the Buddhist Lamas, monasteries and barren mountains, became for me a metaphor for spiritual quest, an inner yearning to transcend the ephemeral and seek a more rewarding and fulfilling purpose.
The truth is that I have never been to Ladakh although I have heard of its mystique. While writing the chapter, I feared drifting into abstractions. Creating a sub-plot involving a monastery, a Lama and a mysterious woman proved to be an interesting experience.

AG: Was it difficult to write your first novel on the exile of Kashmiri Pandits from Kashmir? While writing on such an issue was there a problem to negotiate the dichotomy between history and fiction?
SG: It all started as a hobby. I knew I was a beginner and, therefore, I had no fears. I struggled with the craft though. It was difficult at times when I found myself dissatisfied with my writing. I learnt along the way. I did not lose patience and had the courage to go on, despite the loneliness.
In a novel, negotiating between history and imagination is not that much of a challenge. One has just got to be creative and make good choices when it comes to portrayals, characterization and events. Literature needn't draw its inspiration solely from history. As a novelist, I reveled in creating an alternative world.
AZ: Do you see yourself - a Kashmiri Pandit writer as a part of the process that might be underway in understanding what happened between the two communities in the 90's?
SG: I must confess that I am no authority on socio-political matters. In today's age of social media, seminars and talk shows, people find it easy to express and react to situations. Many people try to monopolize issues, others analyse, intellectualise and theorise.
Writing a novel does not necessarily qualify me for participation in the process of reconciliation. I abhor commenting on the merits or demerits of political or social processes. I love being a commoner, a hobbyist. But as an observer, I seek inspiration from people who live through hard times. Perhaps, for artistic expression!

AZ: Tell us a little bit about your childhood around the area of Safa Kadal in Kashmir?
SG: Our house was in a small locality between Safakadal and Nawakadal in downtown Srinagar. It was nestled in a cluster of houses belongings to Pandits and Muslims. The locality consisted of narrow lanes, corner shops, a ration ghat, some temples, some mosques, vacant patches of land and an embankment! The neighbourhood consisted of a diverse mix: rich traders, poor people, petty shopkeepers, educated people and illiterates! People with a tremendous sense of humour!
My school was a thirty-minute walk from my house. I grew up during the peaceful eighties. Life was hard during the harsh winters. There was no electricity. People would hoard kerosene, firewood, coal and other items during the summers. People seldom ventured out during the winter days because of the cold. Sometimes I read a book or two. When I was in class eight, I went to Gulmarg to learn snow skiing.
Then in the winter of 1989, things changed when the militancy erupted. In our locality, the Pandits feared that the uprising and the militancy might lead to a 'divide' and that they would be targeted. I witnessed the bizarre events unfold day by day. While thousands of Kashmiri Muslims came out on the streets, defying curfew and shoot-on-sight orders, and demanding freedom from India, the Pandits huddled indoors in fear and bewilderment, not knowing what to do. Fear lurked in their hearts. During those days many Muslims and Pandits were killed. Panic struck when, in our locality, a Pandit, a retired lecturer, was shot dead by militants outside his house. The Pandit families felt helpless. They feared for their lives when they heard that hit lists were being prepared by militant groups. Some militant organizations pasted posters everywhere in our locality giving Pandit families 36 hours to leave the Valley. There were announcements on the loudspeakers asking the 'infidels' to leave.
Once while returning from school, I got caught in a violent crossfire between the militants and the security forces. There was smoke everywhere – smoke from teargas canisters. A bystander was singled and shot at. My friends and I searched for cover. Then such incidents became a daily affair.
When the situation deteriorated with the kidnappings and killings taking place, Pandits in our locality sent their children and girls out of Kashmir. Soon, the elders followed suit too. My sister and I were sent to Jammu with a neighbour. My parents didn't want to leave. So they remained in Kashmir till the summer of '90. They were the only Pandit family in our locality who lingered on till summer.
Initially, I felt some sort of excitement. Leaving Kashmir for a different town seemed adventurous. I was in my teens and didn't care about many things. None of us understood the gravity of situation at that time. It was only after spending the first few days in Jammu that the magnitude of the problem dawned on me. People from all parts of Kashmir were already there, living in barns and moving into camps which were set up by the authorities. Thousands of canvas tents were erected. Every evening, I idled around a highway bus stop and saw men, women and children pour out of trucks and buses, and seek shelter in temples, dormitories, sheds, schools and vacant buildings. Few places were habitable. The entire community felt devastated by a sense of desolation and deprivation.
Ours was the last family to leave the locality in Kashmir. Some neighbors came to my father and pleaded him not to leave. They gave assurances. 'We will protect you. No harm will come to you,' they said. Ironically, they also advised us to leave when things changed. It took me years to understand the 'humanity' of it all. Our neighbors were concerned for us. Sometimes I feel that my parents finally left because of me and my sister. They chose to migrate to Udhampur, a small hill town on the Jammu-Srinagar national highway. It was less chaotic in the town and one could see the hills at a distance.

AG: What is 'home' for you?
SG: This is such a difficult question. Adorno says, 'For a man who no longer has a homeland, writing becomes a place to live.'
Delhi is my home now. This cosmopolitan city is changing rapidly and is home to thousands of migrants from across the country. Kashmir was 'home'. Long years back! My ties with Kashmir will always remain.
My grandmother and parents live in Jammu now in a small house of their own. They are contented there. The joint family system is dead. The old feel comfortable in Jammu.

AG: Do you see a new hope in Kashmiri voices being heard with the recent emerging literature on Kashmir?
SG: While the contemporary writing in English coming out of Kashmir holds immense promise, it will be interesting to see how this literature evolves in the time to come, in terms of genre and themes. Kashmiri Pandit youths don't come out with fiction in English. Kashmiri Muslims are already at it.
AG: Finally, what are you working on next?
SG: These days, I am working on short fiction. And one day I will try my hand at writing children's stories.